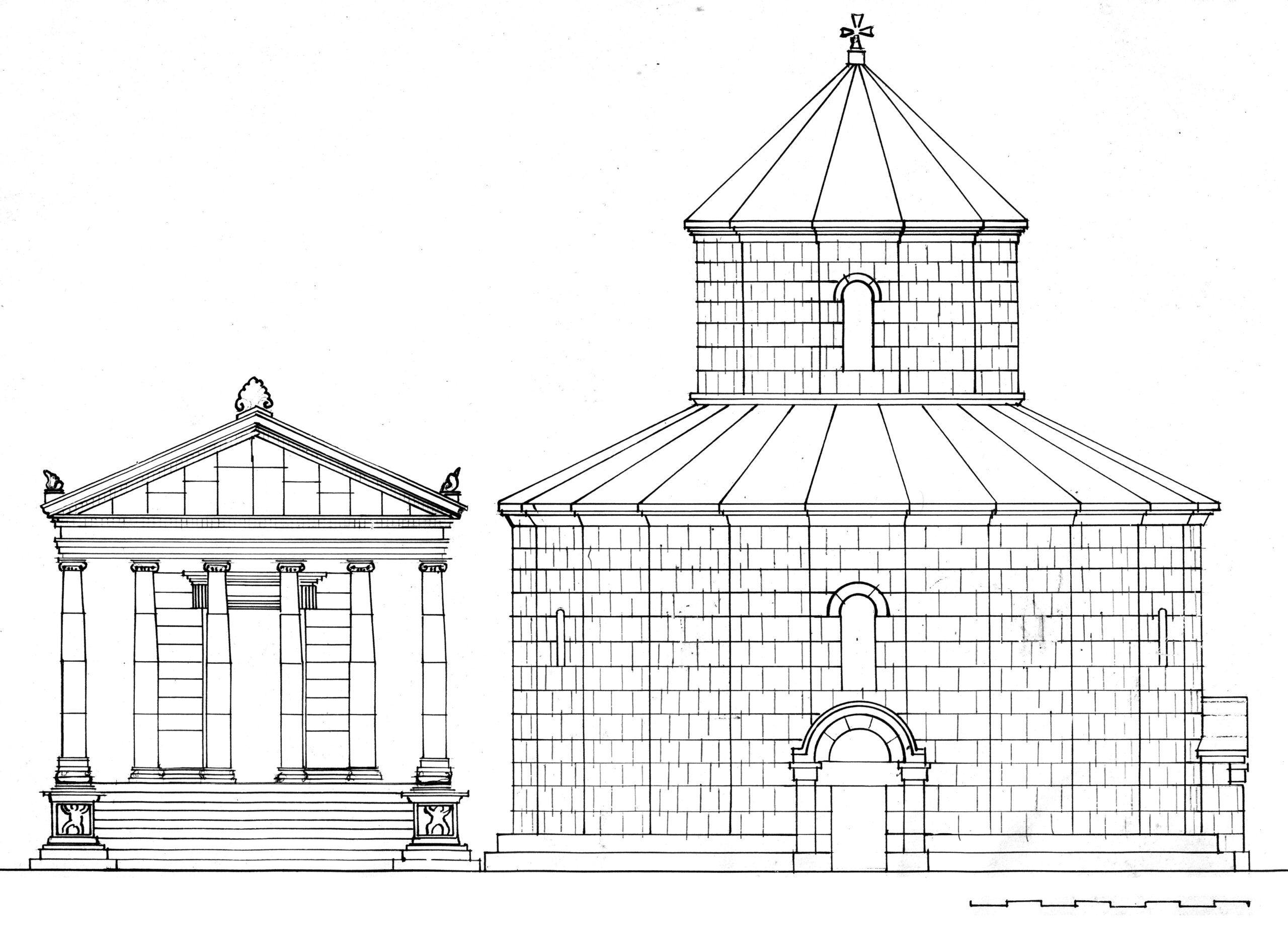 Northern façade (reconstruction by Dr. Tiran Marutyan)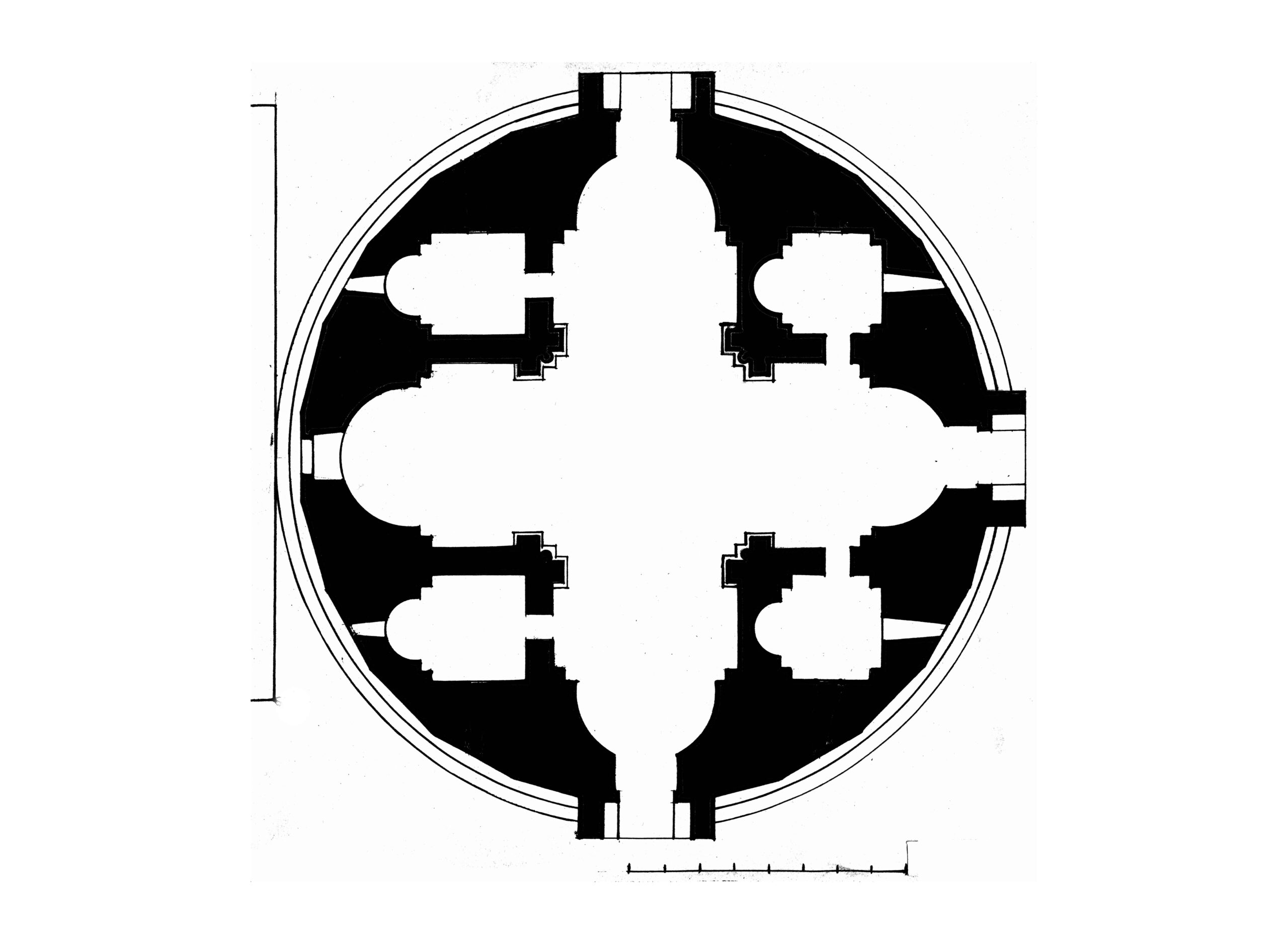 Plan (reconstruction by Dr. Tiran Marutyan)
The Holy Zion church was built in the 7th century, right next to the ancient temple of Garni. According to the colophon of a manuscript written in 1346, the church was built by the Catholicos Nerses III Tayetsi the Builder in 659, who also built Zvartnots church near Etchmiadzin. From an architectural point of view, this is a cruciform four-apse composition enclosed in a 24-sided almost round perimeter. The sacristies were located at the corners of the wings of the cross.
According to Dr. Tiran Marutyan, the architect of the Holy Zion (whose name did not remain in history) approached the task masterfully – he erected a Christian church that was much larger than the neighboring pagan temple, but at the same time was not diminishing it. The round composition of the church made it possible to keep the western façade of the pagan temple partially visible. The height of the cornice of the main volume of the church was equal to the cornice of the pagan temple, and the angle of the slope of the roof was the same as that of the pagan temple.
There are two other monuments with a similar composition – the church of Saint Sargis in the Khtskonk monastery (1025) and the round church in the Marmashen monastery (10th-11th centuries).
More about the Holy Zion church: Tiran Marutyan, "The Specificities of the Garni Round Temple", Հայաստանը և Քրիստոնյա Արևելքը ժողովածու [Armenia and Christian East], edited by Paruyr Muradyan, Yerevan: Publishing House "Gitutyun" of National Academy of Sciences of Armenia, 2000, 217-225.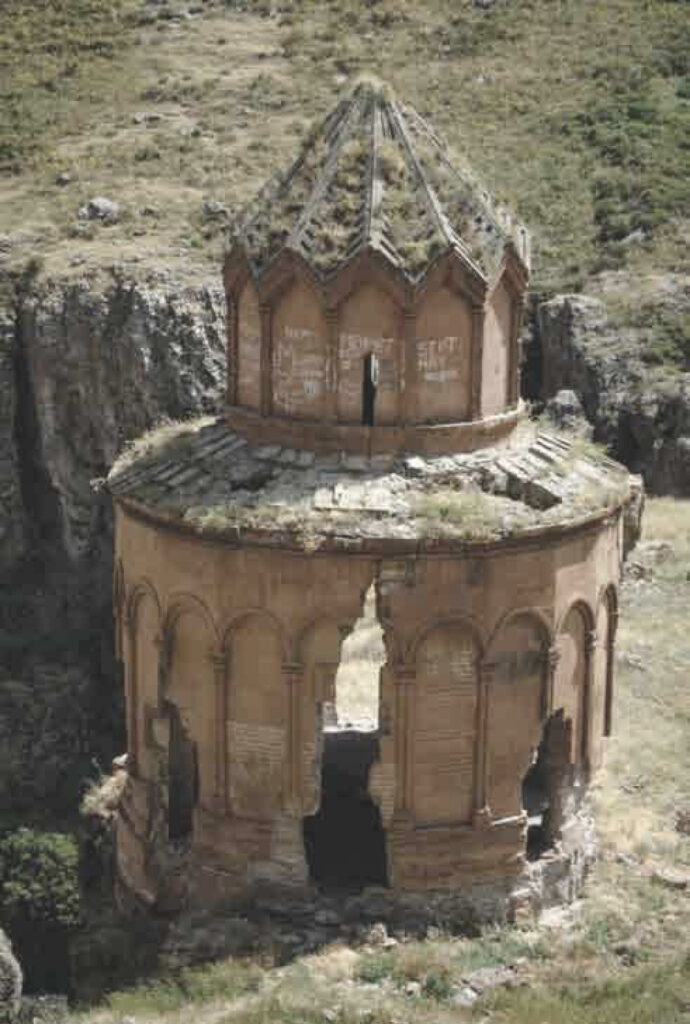 Saint Sargis church of Khtskonk monastery (photo by Samvel Karapetyan)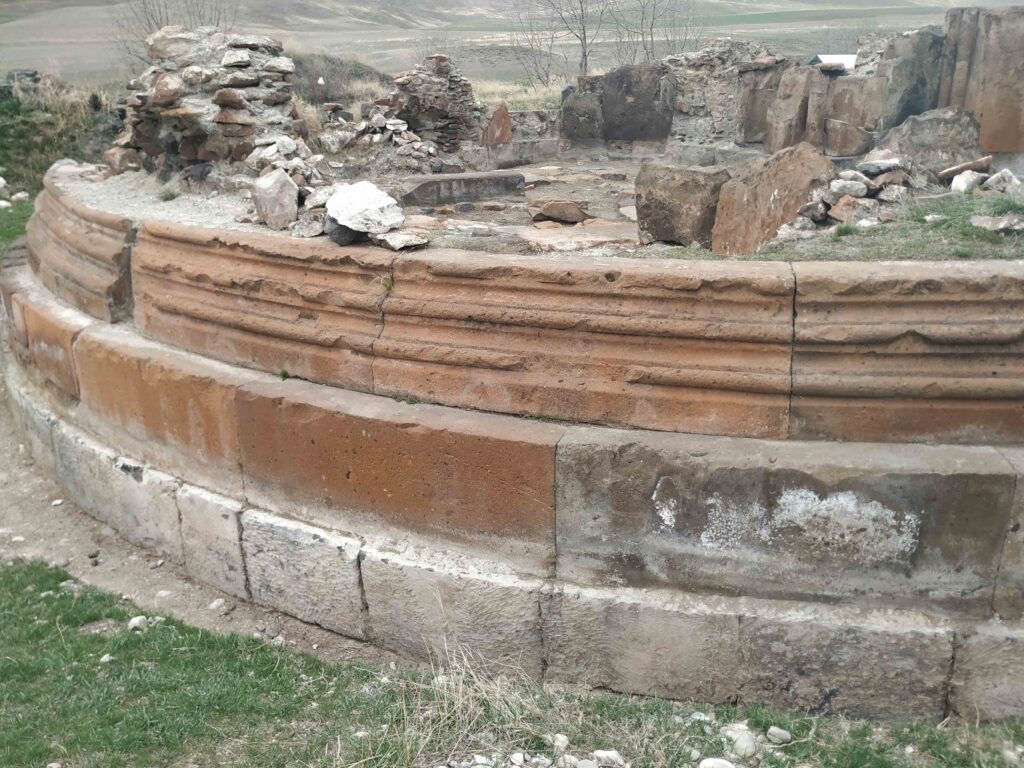 Fragment of the round church of the Marmashen monastery
"Window to the Past"
In 2023, the "Window to the Past" project was implemented on the territory of the Garni fortress, providing visitors with the opportunity to glance at the church in its original form. The project was implemented by the "Land and Culture" organization with the financial support of the Depi Hayk Foundation and the assistance of the Ministry of Education, Science, Culture and Sports of the Republic of Armenia and the "Service for the Protection of Historical Environment and Cultural Museum-reservations".
Architect — Tigran Marutyan.
Author of the idea and project management — Vladimir Areshyan.
The project is dedicated to the memory of all Armenian architects.